Bonjour Mes Amis! (A special welcome to all of my new swapbot pals - so glad you are here!)
Happy Mardi Gras to you all. I thought I'd share a festive recipe today: King Cake!
Paraphrased from
here
, but here is the idea: A king cake is a traditional New Orleans recipe, baked and eaten between Epiphany (Kings Day/12th night - as in, the day when the 3 Wise Men arrived after following that Star of Wonder) and Mardi Gras (the day before Lent, when you go crazy and eat and drink whatever you want, before giving up the good stuff).
This oval shaped coffee cake is decorated with icing and the traditional Mardi Gras colors of
green
,
yellow
, and
purple
. BUT WAIT THAT'S NOT ALL. There is a BABY inside! YES! You bake a little plastic baby into the cake, and whomever gets that slice will be lucky. (Plus you have to bring the cake next year, too).
Now, I realize it is already Mardi Gras today, and you might be pressed for time. Here is a shortcut to King Cake: Canned Cinnamon Rolls!
Ingredients
•1 can of cinnamon rolls, with icing
•3/4 cup of sugar, separated into 3 parts of 1/4 each
•food coloring
Separate the cinnamon rolls and roll them out by hand so that they look like a hot dog. Shape the roll into an oval, pinch the ends together, and place on a cookie sheet. Cook as directed.
While they are cooking, use food coloring to dye sugar. Make one part purple using blue and red, one part green, and one part gold using yellow. When they are finished cooking, ice the tops with the white icing. Sprinkle the different colors of sugars alternating as you go around the oval. Enjoy!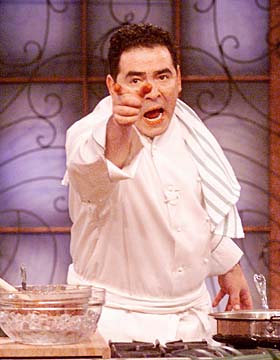 Now, I don't want to get in trouble from the purists out there, so if you do have the time,
here
is Emeril's traditional recipe.
Laissez les bons temps rouler!